Need Fast & Affordable Text-To-Speech Services Using The Latest AI Voice Technology? We Can Help!
About Our Text-To-Speech Services
We will convert your text or documents into realistic and lifelike audio narrations using the highest quality text-to-speech AI audio technology currently available.
We'll convert your text files, large documents, and even books into audio narrations with your choice of more than 140 realistic sounding voices in dozens of languages and dialects.
PositiveAudios.com will save you thousands of dollars on the cost of hiring professional voiceover artists to create lifelike voice narrations for projects like:
Sales Videos
Explainer Videos
Training Videos
Product Review Videos
Presentations
Webinars
Audiobooks
Podcasts
Video Ads
Audio Salesletters
Audio Articles
Audio Reports
And More!
We can provide superior quality voices to your supplied text files using the same advanced deep learning technologies used by Google and Amazon to synthesize speech and create realistic human voices.
Contact us using the form at the bottom of this page to request a quote. 
Check Out Our Audio Samples …
To create the example shown in the video below, we took a text file containing a voiceover script and converted it into an audio narration using "Kate" – an English (US) female voice …
(Kate – English US)
We then used the same text file to create a voice narration using a different English (US) female voice: "Stacey" …
(Stacey – English US)
Do you need your audio files narrated by an English speaking female voice with a British accent? No problems! Here's the same voiceover script narrated by "Olivia" …
(Olivia – English UK)
What about targeting an Australian audience? No worries, mate! You can choose aussie voices like "Mia" to narrate your audio recording …
(Mia – English AU)
Now … what if you're targeting an international audience? How about getting "Margot" to narrate your scripted voiceovers in French?
(Margot – French)
Or how about creating a version in Portuguese with "Fernanda" from Brazil?
(Fernanda – Portuguese BR)
These voices sound amazing, wouldn't you agree?
Well .. we have many more voices for you to choose from! We can translate your supplied audio text scripts into many other languages to help you reach a wider global audience for your business, products, or services.
Voices
Check out the voice samples below (use the scroll function at the bottom of the table to play audio file and adjust sample volume. Please allow a few seconds for audio file to load):


Text-To-Speech Services Information
Our Text-To-Speech Services Are Ideal For Businesses With Small Budgets
Hiring professional voice over artists to record your video narrations can end up costing you thousands of dollars …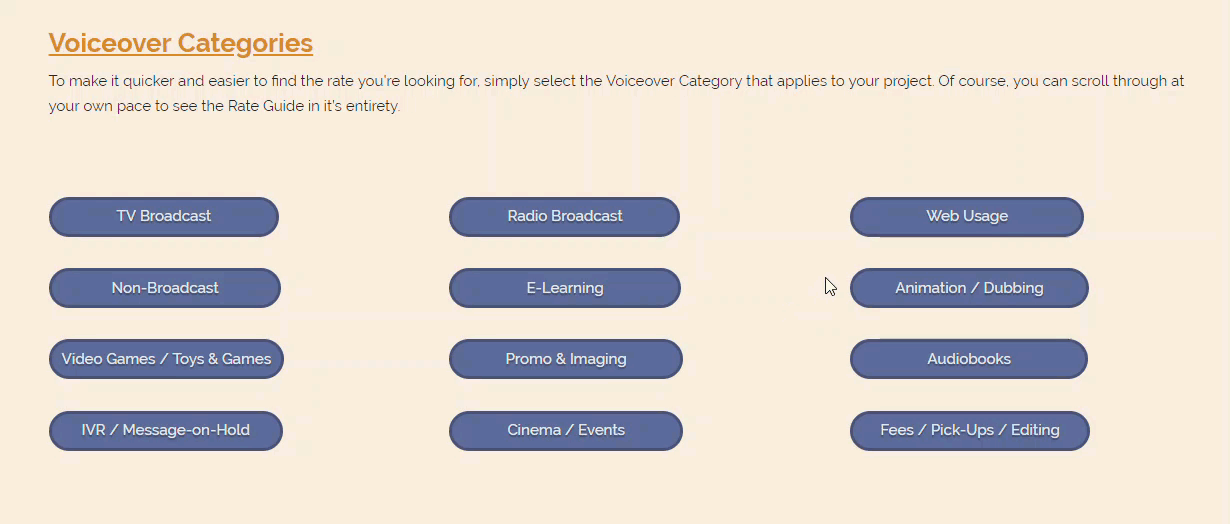 (Voice Over Rates – Source: GlobalVoiceAcademy.com)
If you're trying to grow your business on a small or limited budget, we can generate high-quality realistic-sounding audio narrations for your videos and presentations that will allow you to get your message in front of more potential customers and help you train or upsell existing clients.
For example, check out the presentation video below narrated by "Kate" …
Let Us Convert Your Text Into Speech!
Whether you're an organization looking to convert your content into spoken web pages to improve internet accessibility for your visitors and users, a small business trying to grow online using inexpensive digital marketing methods, or a digital marketing agency looking for cost-effective ways to service more clients, we can provide you with a professional, reliable, and affordable text-to-speech conversion service that will save you time and money.
We guarantee fast turnaround times for most projects and affordable and professional text-to-speech conversions with high-quality audio narrations for your sales, training, and education videos, web content, etc.
Pricing & Estimated Completion Times
Please contact us using the form below for a quote and estimated project completion and turnaround times.
Special Rates For Regular Clients & Bulk Text-To-Speech Conversions
We offer discounts for regular clients and bulk conversion jobs. Please contact us using the form below to discuss your needs.
How It Works
Contact us to discuss your needs and get a quote using the form below.
We'll review your request and get back to you. We may ask you to submit your text files or links to the content you want to convert into speech to get a better idea of what your project involves.
After assessing the work, we will then provide you with a quote and estimated completion times. We'll also discuss and advise you if anything needs doing or changing to improve the quality of your results (e.g. fix formatting issues, rewrite content sections, etc.) and request an initial deposit before commencing the work.
Once the work has been agreed on and the go ahead is given, we'll then convert your scripted files into downloadable .wav and/or .mp3 audio files and provide samples so you can check the quality.
We'll deliver you the finished audio files after balance of payment is made.
Our text-to-speech conversion service includes:
Preparing your text file for input (includes document spellchecking, minor edits and corrections with client approval, etc.).
Reviewing and tweaking the audio output (i.e. listening to the finished recording to make sure there are no glitches or mispronunciations).
Revising and fixing existing script.
Preparing audio files for delivery and download.
How To Order
Follow the steps below to order your voice narrations:
1) Calculate the number of words in your audio script (use the tool below if you need help).
2) Contact us using the form below to discuss your needs and submit a file containing the text you want marked up and converted into speech to .
3) We'll review your text file and/or request and provide an estimated cost for the project and instructions for making initial deposit payment.
4) If you're happy with the quoted prices and estimated project delivery times, make an initial deposit payment and give us the go ahead to proceed with the service. As soon as the deposit payment has been made, we'll then schedule and start working on your project.
5) After the service is completed, we'll provide you with a sample of the audio recording and a balance of payment request. Once this has been received, we'll provide you with download links to your finished audio files.
Request A Quote
Contact us using the form below for a quote on our text-to-speech conversion services.
Please remember to include:
Number of words in file to be converted.
Type of application you plan to use the audio file for (e.g. sales video, audiobook, etc.)
Please allow 24-72 hours for a response.